Mexico Bird Hunting
Frequently Asked Questions
Is it Safe to Bird Hunt in Mexico?
Yes! We have made every effort to assure our guest's safety when hunting with us at El Dorado Outfitters. Our lodge is located in the middle of a gated and private 9,000-acre agave plantation.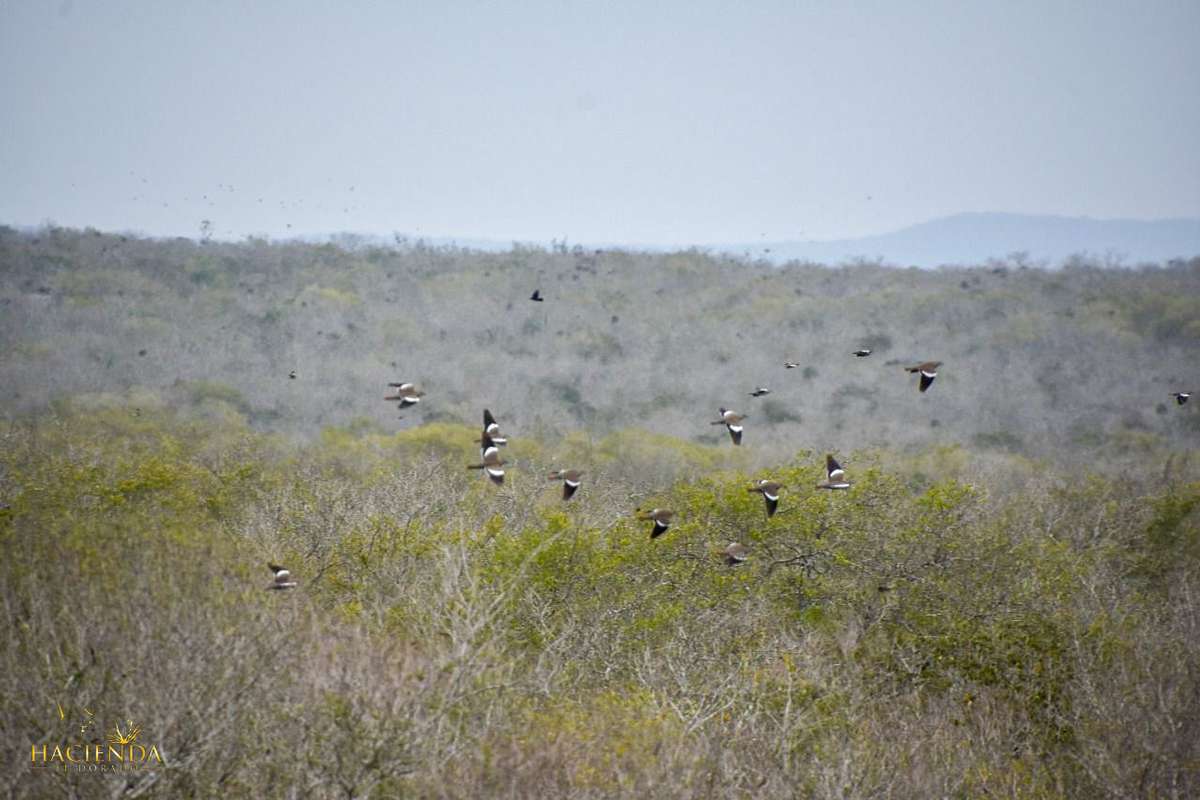 How Do We Get to the El Dorado Outfitters?
El Dorado Outfitters is located at Hacienda San Vicente Lodge. There is a mile-long runway available at the lodge or guests can travel to Brownsville or Harlingen, TX. If you decide to go to Brownsville/Harlingen, we have a representative of the lodge pick you up and drive 2.5 hours to the ranch. We use different vehicles depending on your group size–we have Sprinter Vans available for larger groups. Drinks will be provided on the trip.
Do You Need a Passport or Visa to Quail Hunt in Mexico?
Yes, passports are necessary. We ask for a copy of your passport in advance and will have the visa paperwork ready for you to sign upon arrival.
What is the Capacity of the
Hacienda San Vicente

Lodge?
14 guests are our maximum occupancy during the white-wing season. 8 guests are our maximum occupancy for the mixed bag and quail seasons. Private occupancy for up to 8 people.
Are Drinks Provided at the Hacienda el Dorado Lodge?
Yes! All beverages including alcohol are complimentary. If you desire a certain beverage, please let us know and we will do our best to accommodate you.
How do I Pay for my Mexico Wild Quail Hunt?
You can pay by credit card, check, ACH, transfer, or cash. We ask for a 50% deposit due 10 days after the initial invoice/ The remainder of the invoice is due 30 days prior to your hunt. All shell bills and extra costs will be settled before you leave the lodge.
How Do We Tip Our Hunting Guides?
We have a policy of $400 per guest for gratuity that will be added to the final payment. This takes out any guesswork on your end in terms of tips. However, if you choose to tip your bird boy or any other employees while you are staying at the lodge, it is greatly appreciated by our crew.
What is the Minimum Group Size for Hunts?
We have a required minimum group size of 4 hunters at the regular price. Contact us for pricing if you would like to travel with a smaller group.
What Shells Do You Hunt With?
Aguila is the main ammunition that we use. The shells are $20.00 per box, subject to change.
What Shotguns Will We Be Shooting at
Hacienda San Vicente

?
We hunt with mostly Beretta 390 and 391's, We also have several over and under-shotguns on order for our quail hunts.
What Types of Hunts can I Book at
El Dorado Outfitters

?
We hunt everything legal in Tamaulipas but our focus is on wild quail. We offer quail hunts, dove hunts, mixed bag hunts, and turkey hunts. If geese are available during a mixed bag hunt, we hunt them on dry land. If you are looking for a particular type of bird hunt we are more than happy to work something out with you.
What are the Mexico Hunting Seasons?
Mexico hunting seasons vary from year to year, please keep in mind these are approximate dates.
Quail: November 1st – February 28th
Dove: August 21st – September 31st
Waterfowl: November 1st – February 28th
What is the Best Season to go Bird Hunting in Mexico?
There is no bad season to bird hunt in Mexico. Our desired prime time for mixed bag hunts and quail is December and January. Prime dove season is typically from the end of August to the end of September.
Can I Bring My Own Gun and/or Dog to El Dorado Outfitters?
Yes! We can assist you through the process of traveling with a firearm. Mexico asks for $435.00 per gun permit. We do allow guests to bring their own dogs, however, we do not recommend it unless your dog is experienced working in southern climates.
What if We Want More Hunt Than the Typical 5 Hunts?
If you would like to hunt for a full week, you are able to do so by paying the price of two hunts. This package adds an extra hunt for a total of 11 hunts.
When's the Best time to Bass Fish?
Pre–Spawn starts in Late January and the peak of the spawn is early March, this is the best time to come chase trophy Largemouth
What kind of Boats do you have available?
2010 Triton tr20, 2000 Champion 206, 290's Basscat Panteras, all in excellent working order and ready to fish!